Why is this website 13+?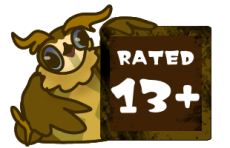 ---
For everyone: what this website may contain
Profanity: I try not to swear much in articles, but sometimes it's necessary to prove a point or tell a story. This can include F-bombs.
Suggestive (but not explicit) content: some of my stories may imply sexual behavior between characters. This will never be shown explicitly or described in any detail, but it may be hinted at.
Heavy topics: I write about things that could be upsetting or confrontational. Heavier topics are not warned for in individual articles, so consider this your advance notice.
Fictional violence and body horror: some of the stories I write depict people and/or animals being hurt, killed, or physically distorted. This may be described in detail or drawn.
Links to sites that may contain difficult content: this website links to a lot of other websites. Some linked pages may be more mature or confrontational in nature.
Other 13+ topics: inevitably, there will be something on my site that's not on this list. What matters is that I always try to write my articles with teenagers and adults in mind. If I knowingly write any articles that aren't appropriate for minors, then I'll mark them as such.
Why no content warnings?
Content warnings serve a purpose: they allow people to make a more informed choice about what they read. Unfortunately, they also encourage avoidance and may worsen the exact problems they hope to solve. On top of that, it's impossible to warn for everything that may be upsetting without knowing exactly who your audience is. This page is the best solution I could come up with to allow people to inform themselves about this website's contents without pasting a laundry list of warnings into every single article.
---
For kids and teens: what you need to know
...about this website
There are some pages on this website that use curse words, talk about tough topics, or could upset strict parents in other ways. These pages do not have any special warnings on them. If you think that this might be a problem for you, then please talk to a trusted adult about it or click away. Reading some articles written by a stranger isn't worth getting in trouble.
If you're under 13, then please get permission from a trusted adult before exploring this website. I know that it's frustrating to be told that you need an adult to do something (especially if you're 12!), and I don't ask you to do this without a good reason. I want there to be a safe adult to support you if you come across something confusing, upsetting, or even scary.
...about being online
We live in a world where online friendships are becoming more and more common. Many friendships are great, but some can turn dangerous. It's important to know what to do if you run into trouble. Take your online safety seriously and learn how to protect yourself online. I've got my own internet safety page if you'd like to look that over too.
One more thing: my job is learning about how criminals attack people with computers. I've learned that it doesn't take a lot of information to hurt people, and anyone can become a victim. Please, please keep your internet self separate from your real-world self. I've seen a lot of kids sharing real-world information on their social media profiles recently. I've even seen lists of medical diagnoses and triggers put out in public. Sharing that information is a massive risk. Keeping your real-world information private is a very easy way to protect yourself from a lot of scary problems.